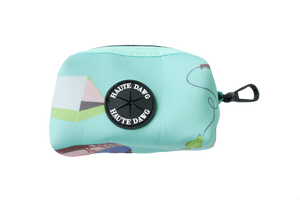 WASTE BAG HOLDER- THE GREAT OUTDOGS
The perfect bag to carry your dog waste bags, keys and loose change.  Grab one to match your Great Outdogs set!


Details:
Measures 4.5" x 2.5" x 2.5"
Perfectly fits one roll of standard waste bags (one roll is included!)
Heavyweight neoprene material making it super easy to clean
Small zipper along the top
Rubber Haute Dawg bag dispenser
Perfect for waste bags, keys, loose change and treats!